Trends to follow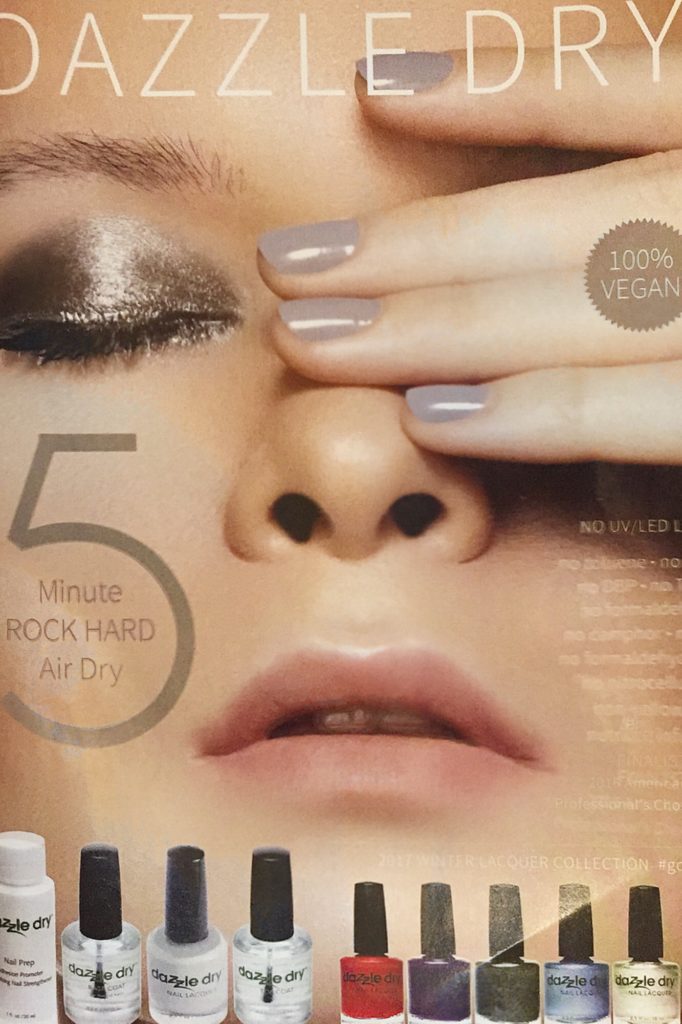 Trends to Follow
From innovative formulas and technology to new colors and nail designs, we have the scoop on what's hot this season.
Healthy Nail Polish: Nail polishes that contain natural ingredients and those that are considered 3-,5-,7-, and even 9-free are making their way into spas and salons. We currently provide Dazzle Dry the pioneer polish of its kind.
Gel Alternatives: Safer methods are on the rise, such as the use of LED lights instead of ultraviolet (UV) lights to cure color and better education on removing gel polish. And hybrids that are less harsh on the nails and do not require the use of UV lamps and can be removed with any nail polish remover continue to be a popular trend. "More and more people are starting to realize the importance of nail health and damaging effects of gel"
Color Trends: As for colors, everything from bold to nude shades are hot. "The evolution of the nude nail has arrived, complementing all skin tones from light to dark." In addition, chrome and metallic shades are back and making a statement, according to Pennington, as are powdered pigments that create chrome and holographic finishes.
CHEMICALS DAZZLE DRY DOESN'T CONTAIN
Toluene is a skin irritant that causes moderate to severe irritation. Symptoms include pain, redness, and swelling. When inhaled, toluene can irritate the nose and throat, and can harm the nervous system. Symptoms may include headache, nausea, dizziness, drowsiness and confusion.
http://www.ccohs.ca/oshanswers/chemicals/chem_profiles/toluene.html
Xylene has negative side effects when inhaled and has contact with skin. When inhaled the xylene vapor can cause depression of the CNS (Central Nervous System) with symptoms of headache, dizziness, nausea and vomiting. When xylene is in contact with skin it dissolves the skins natural protective oils, which can cause irritation, dermatitis, dryness, and flaking/cracking of the skin.
https://www.ncbi.nlm.nih.gov/pmc/articles/PMC2996004/
DBP can cause eye irritation, irritation to the upper respiratory system, and stomach irritation.
https://www.cdc.gov/niosh/npg/npgd0187.html
TPHP exposure has been linked with reproductive and developmental toxicity, neurotoxicity, metabolic disruption, endocrine effects, and genotoxicity.
http://www.nature.com/articles/srep21827
Formaldehyde is a probable carcinogen. Formaldehyde is an eye, skin, and respiratory tract irritant. Ingestion may cause corrosive injury to the gastrointestinal mucosa, with nausea, vomiting, pain, bleeding, and perforation. Inhalation of vapors can produce narrowing of the Bronchi and an accumulation of fluid in the lungs.
https://www.atsdr.cdc.gov/mmg/mmg.asp?id=216&tid=39
Camphor can cause some minor side effects such as skin redness and irritation. Ingesting Camphor can cause severe side effects including death. Symptoms include burning of the mouth and throat, nausea, and vomiting.
http://www.webmd.com/vitamins-supplements/ingredientmono-709-camphor.aspx?activeingredientid=709&
MEK affects the CNS, which can lead to headaches, dizziness, and lightheadedness progressing to unconsciousness, seizures, and death. Eye, nose and throat irritation may also occur with exposure.
https://www.ncbi.nlm.nih.gov/pmc/articles/PMC2078137/
Formaldehyde Resin has no quantifiable health effects
http://www.cosmeticsinfo.org/ingredient/tosylamideformaldehyde-resin-0
Nitrocellulose can irritate the skin and eyes. Exposure can cause headaches, and difficulty breathing.
https://www.google.com/url?sa=t&rct=j&q=&esrc=s&source=web&cd=4&sqi=2&ved=0ahUKEwjr4q3jz7XRAhXF5yYKHbjkCS4QFggvMAM&url=http%3A%2F%2Fnj.gov%2Fhealth%2Feoh%2Frtkweb%2Fdocuments%2Ffs%2F1366.pdf&usg=AFQjCNHR-Wuqzktl__SIhRmbbm6APbtT2w&bvm=bv.142059868,d.eWE&cad=rja