A golden bronze airbrush tan is a perfect alternative to tanning at the beach. Before spray tanning, one of our trained professionals will discuss your tanning color preferences. We use Norvell, a special spray tanning formula that is quick drying, natural looking and gives you an instant sun-kissed tan. The amino acids on your skin's surface will respond naturally to DHA and the complementary ingredients in the tanning formula. The result is a beautiful sunless tan, generally lasting 7-10 days.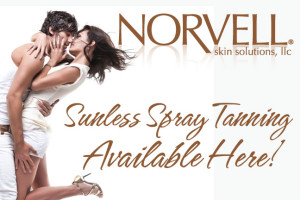 You have a choice of:
EXPRESS that develops in 1, 2 or 3 hours for light, medium, dark and tan colors, or
CLASSIC that develops in 8 hours. 5 different colors: original, cocoa, dark, double dark and Venetian.
ORIGINAL

:

Our lightest color gives you a "sun-kissed glow." We recommend it for very fair skin or for clients who have very little red in their skin.

COCOA

:

This color contains the same percentage of DHA as the original solution, but has a much darker cosmetic bronzer. We suggest this for clients who want a more dramatic, immediate tan.

DARK

:

This is our most widely requested color and the "go to" solution for most clients. It gives your skin a beautiful, golden "off the beach look" customized to look great on all skin tones.

DOUBLE DARK

:

This is our darkest color and will give you the same golden "off the beach look" as Dark just more intense. This color is recommended for skin which is naturally dark.

VENETIAN

:

This is our newest solution and one of Anna's personal favorites. It contains a violet undertone to remove the natural redness from your skin and turn it brown. The end result is a gorgeous, exotic "true brown" color. It is perfect for all skin tones, even our red headed clients.
It is very important to keep your skin completely dry for 24 hours after the treatment.
ONE RAPID: Our rapid solution gives you the luxury to shower within 1-3 hours depending on your skin tone and the color you wish to achieve. For the look of the original solution, shower in one hour. For the dark look, shower in two hours. For the double dark look, shower in three hours. Extending application duration longer than 3 hours is NOT recommended for optimum results.
We believe that 10 minutes of sun exposure a day is mandatory for vitamin D production but there is no "healthy 10". The skin tans in response to sun damage. Our slogan is "Pale is beautiful" because the only true beauty is the healthy beauty, however, it is good to look different on occasion to compliment a dress or a swimming suit. In those cases, our air brush tanning is your answer for a beachy glow. Our estheticians are Norvell Academy graduates. They will exam your skin to find out what kind of spray tan to use to achieve your perfect "tan tone". We choose Norvell because this is one of the oldest spray tan systems on the market, developing sun tan colors not only for themselves but also for 80% of brand name spray tan products on the world market.
Why Choose Norvell®?
Natural Color Results for Any Skin Type.

Norvell® formulations offer a b

eautiful instant bronze with a smooth transition to a natural DHA tan. Results are natural across a broad spectrum of skin shades and

tones.

Not Just a Tan, it's a Healthy Skin Treatment Too.

Skin firming formula builds and restores the skins' matrix, reducing the appearance of fine lines and wrinkles. The highly concentrat

ed antioxidant blend combats daily skin da

mage.

Guaranteed Fast Drying,

Non-Sticky and Streak-Free Formula.

No "Orange" Color Development & Odor Inhibitors Control DHA after Tan

Odor.

Lasting Results.

Clients can expect 5-7 days of gorgeous Just off the Beach™ color with proper maintenance. An even color fade ensures complete customer satisfaction.
24-48 Hours Prior to Session
Exfoliate. Exfoliate. Exfoliate.

We cannot over-stress the importance of pre-session exfoliation. 24-hours prior to your appointment, clear away any dry, dead skin cells with a pH balancing scrub, no less that 24-hours prior to your session. Pay special attention to elbows, knees, palms of your hands, areas between your fingers and toes, soles of your feet and heels

Protect Your Skins' pH Levels

Avoid using bar soaps, high pH shower products, or in shower moisturiz

ers. These products can neutralize the DHA bronzing reaction within the skin

Hair Removal




Any depilatory creams, waxing or shaving should be completed 24-hours prior to your session
Day of Session
Don't Create Sunless Barriers

Avoid applying anything to the skin that may act as a barrier between the sunless solution and the skin. Deep penetration of the solution is key to beautiful lasti

ng color.

Do not apply lotions, creams, or perfumes prior to session. Use deodorant sparingly or not at all


Remove any make-up prior to the sunless application

Arrive Prepared
During the session
If you prefer no tan lines, this is the only service that you can receive being naked. If you want to have tan lines bring your own tanning suit. Attention: no cotton, linen, or silk fabric allowed. We can provide you with our disposable bras and bikinis but they will not promise perfect "10 lines". You also must keep your hair up, so bring your rubber band or we will provide you with shower cup

Wear loose fitted, dark colored clothing and remove all jewelry. Tight clothing can rub or smear bronzers, especially around the knees, elbows, chest and waist
After Session Care
You should refrain from showering as long as possible (up to 24-hours). As with all DHA products, sunless color begins showing development approx. 4-hours after application and continues to darken for up to 24-hours. If you must shower during the 4 to 24-hours following the application, WARM WATER RINSE ONLY. The use of soap can inhibit the full development of DHA color. Important: Cosmetic instant bronzers will wash away during the first shower. Pools and spas that utilize chlorine can cause fading.
When showering after 24-hours, use only a mild pH balancing shower gel. Refrain from using scrubs or high pH soaps as these will strip away your sunless color.
We do not recommend showering up to 16 hours after air spray tan.
How long will my sunless tan last?
The longevity of a sunless tan depends on the type of self-tanning application, the skin's natural exfoliation process, and on the skincare regimen followed before and after application.

The "life span" of a sunless tan also depends on your skin's natural exfoliation. The faster your skin turns over, the faster the sunless tan wi

ll fade. The tan created by the DHA affects only the top layer of the skin and will begin to fade after 4 to 5 days as the skin naturally begins to exfoliate.

Following a good skin care regimen before and after sunless tanning will help a sunless tan last longer. Exfoliating prior to a sunless tanning application and keeping skin moisturized afterwards are essential
Why is keeping skin moisturized essential to maintain great sunless results?
It is important to keep skin moisturized after sunless tanning as dry, flaky skin will slough off faster and color will fade sooner. Your goal is to basically slow down your body's natural exfoliation process.
Sunless tan-extending products with a light self-tanning bronzer, such as Norvell® Color Extender Pro-long™ Moisturizer, help hydrate skin and maintain even, natural-looking color longer by providing subtle bronzers.
Will the bronzers from a spray tanning application rub-off on my clothes?
If you are using a spray solution with a cosmetic bronzer (water-soluble make-up), some of the bronze color may rub off on clothing or bed sheets. This is most likely to happen when you get dressed immediately after tanning.
To minimize the chance of the bronzers transferring to clothing, we recommend you wear loose-fitting, dark colored clothing after your spray session. Try to refrain from physical exertion that could result in your sweating until you shower and wash off the cosmetic bronzers.
All cosmetic bronzers used within Norvell® products are water-soluble. Therefore, in most cases, the color will come out of clothing in the wash.
It is important to note that bronzers may stain light hair, wool, spandex, lycra, silks or other fine fabrics. If product comes into contact with hands or clothing, rinse immediately.
Will I turn 'Orange'?
High pH levels in the skin can sometimes give individuals an undesirable, 'fake' non-natural looking sunless color. Sunless application on skin that is out of balance due to high pH levels sometimes results in what many people refer to as an 'orange' coloring.
To prevent this from happening, do not use bar soaps before your sunless session. A properly pH balanced skin cleanser will not elevate pH levels on the skin, and result in more 'golden brown' sunless tanning results.
What about the after-odor often associated with sunless tanning?
Norvell® professional sunless solutions and Norvell® retail self-tanning products use advanced DHA odor encapsulation, the newest technology in odor inhibitors, to 'trap' odor causing molecules commonly associated with DHA products and virtually eliminate sunless odor.
Should I allow the skin to rest between spray sessions?
It is recommended that individuals not tan more than 3 times in a 2 week period, to avoid build-up of tanning solution that will contribute to uneven wear-off.
This allows a complete cycle of natural exfoliation and eliminates patchiness or uneven areas of wear, such as around the waist, inside the arms where the elbow bends, underarms, and backs of knees. These are natural areas of the body where friction from clothing and daily activities may cause premature exfoliation.
In addition, spraying too frequently may also cause the skin to exfoliate more rapidly (decreasing the longevity of your sunless tan), as over-application can alter the skin's pH levels, causing it to shed more frequently.
How long after tanning should I wait to enjoy a pool/spa/ocean?
We recommend avoiding these situations for the first 48 hours following your spray tan. Chlorinated pools & spas can increase the rate in which the skin exfoliates causing the tan to wear and fade rapidly.
How long does a spray tan take to dry?
Norvell® Solution should dry enough to re-dress in 8-12 minutes. Your spray technician can reduce this time by removing the spray gun from the quick disconnect air hose and "blow drying" the skin.
How dark will my tan appear after one application?
Results will vary based on the individual's skin type and pH balance. Norvell® solutions have been formulated to provide a color that will be appealing to the majority of sunless tanners, and a variety of shades will allow you to find the perfect solution for your individual needs.
Your sunless technician should have all the tools needed to achieve the custom color you so desire.
Will a sunless tan protect me from exposure to UV sun rays?
No. It is common to get a false sense of security when you have been spray tanned. Your skin will still burn when overexposed.
It is still necessary to apply SPF lotions or sprays when in the sun. Norvell® solutions do NOT contain any SPF.
Can pregnant women be safely sprayed?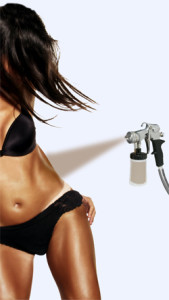 Norvell® Sunless Spray Solutions are non-toxic, and utilize only Eco-Cert® DHA which has been vigorously tested and certified organic by the Group Eco-Cert®.
Each Norvell® solution is:
Paraben Free

Gluten Free

Sulfate Free

Nut-Allergen Free

Propylene Glycol Free

Phthalates Free

Synthetic Fragrance Free
With all of the above being said, Norvell® does NOT staff licensed physicians, therefore as you would before using ANY product on an expectant mother, we recommend each customer consult with their personal physician before receiving a DHA sunless spray tan application.
Is a DHA spray tan safe for a diabetic person?
We have received no feedback from any medical authority that would indicate a risk to a diabetic person, however, as you would before using any product on a diabetic person, we recommend each customer consult their physician before receiving a DHA spray tan application.
I have Vitiligo, will the solution cause a change in the affected areas?
Yes. Norvell® sunless solution does work on the affected areas, however, it is important to remember the skin that is lighter "tans" and the unaffected skin areas also tans, therefore they will remain different colors. While both areas do achieve a sunless tan, they will appear "two toned" when finished. Norvell® color is a blend of the natural skin color and the sunless color.
Sunless color is not a "cover-up", but rather a blend. Customers looking to darken only the lighter skin will need to take care and apply solution to these areas only, and may be best served with any of the retail self-tanning applications available from Norvell.
I have very sensitive skin, should I be concerned with a possible reaction to Norvell® solutions?
If you are concerned with a possible allergic or skin reaction to the solution we recommend you first patch test a small area of the skin prior to a full body session.
Any Norvell® Salon will be happy to arrange a pre-session patch test before scheduling a full body session.
Will sunless solution cause additional freckling to already freckled skin?
No. However, the spray does not cover freckles up either. What is darker will stay darker and what is lighter will stay lighter.